Spanish culture is vibrant and influenced by customs from various regions. Therefore, weddings in Spain are interesting, very lively and shared with lots of friends and family members.
It is well known that people in Spain are very dedicated to both their nearest family and extended family, so it is not uncommon for the Spanish wedding ceremony to be attended by as many as 200 guests, often even more. Bridesmaids and groomsmen are traditionally not a part of Spanish wedding ceremony, but this is becoming more common due to the American influence.  What emphasizes the importance of family bonds even more is an interesting custom – the groom in Spain is accompanied to the altar by his mother, where he waits for the bride to arrive, escorted by her father.
The bride traditionally wears a black wedding dress made of silk, which symbolizes that she will be devoted to her husband until death. However, nowadays it is more common for the bride to wear a white gown, together with a veil or a traditional mantilla made of lace. The groom wears a dark suit combined with a shirt which should traditionally be embroidered by the bride before the ceremony.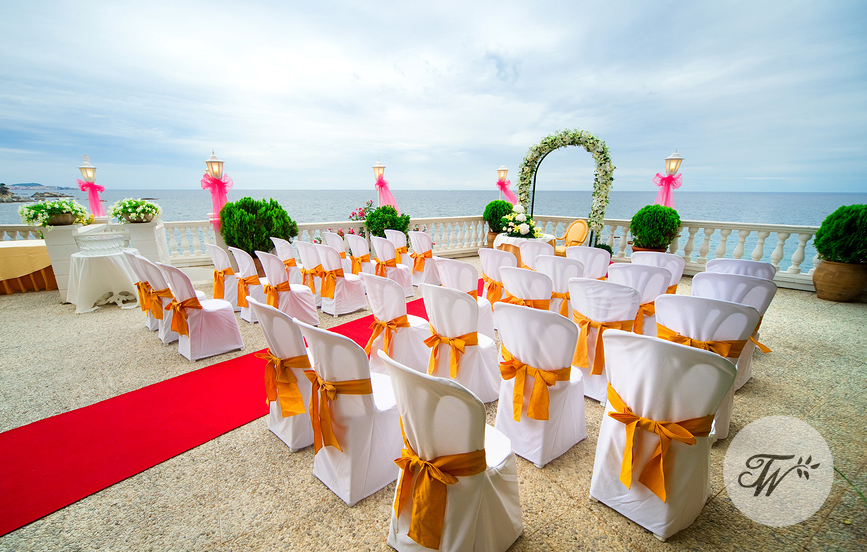 A traditional wedding custom still common today is that the groom gives the bride a chest containing thirteen golden coins. This gift is interpreted differently – some people consider it as a symbol of Christ and twelve apostles, while some consider it to be the symbol of good fortune and prosperity. The couple exchanges rings and wear them on their right hands, and after leaving the church, the guests throw rice and flowers on them.
Flowers are an important part of Spanish weddings, and the traditional flower for wedding ceremonies in Spain is orange blossom. Its white color represents purity, and the fact that orange tree blossoms and gives fruit at the same time symbolizes joy and fulfillment in the couple's marriage. The bride's girlfriends wear flower corsages, and those who are single wear them upside down as a signal that they are available. The girl who loses her corsage during the ceremony is believed to be the next bride, even though no one will ask her how she happened to lose it.
The wedding ceremonies in Spain generally begin around 6-7 p.m. in order to avoid the hottest part of the day. Therefore, the reception also begins quite late and it extends well into the next day. The ceremonies are lively, filled with music, laughter, lots of food and drink, as well as funny games such as cutting the groom's tie and selling the pieces to the guests for good luck.