When it comes to same-sex marriages, most couples choose to follow wedding traditions that already exist. However, some of the rules need to be reinvented, which is what makes same-sex weddings slightly different from the ceremonies we are used to.
First of all, traditional gender roles are not imposed onto same-sex couples. Therefore, at the wedding ceremony the guests are not divided into "bride's side" and "groom's side". This also applies to clothes, which is why two brides often both wear gowns. When it comes to bridesmaids or groomsmen, who are traditionally present at mixed-sex weddings, in this case they are optional. There can be a gay-couple with female witnesses or a lesbian couple with male witnesses – in this case, same-sex couples are reinventing traditions and they are allowed to be creative.
Walking down the aisle also differs from the tradition, where the groom watches the bride approaching him down the aisle. Some same-sex couples sometimes respect this tradition and agree in advance who will walk down the aisle. However, it is much more common for the couple to walk down the aisle together holding hands, or to walk in unison down two separate isles and meet at the altar.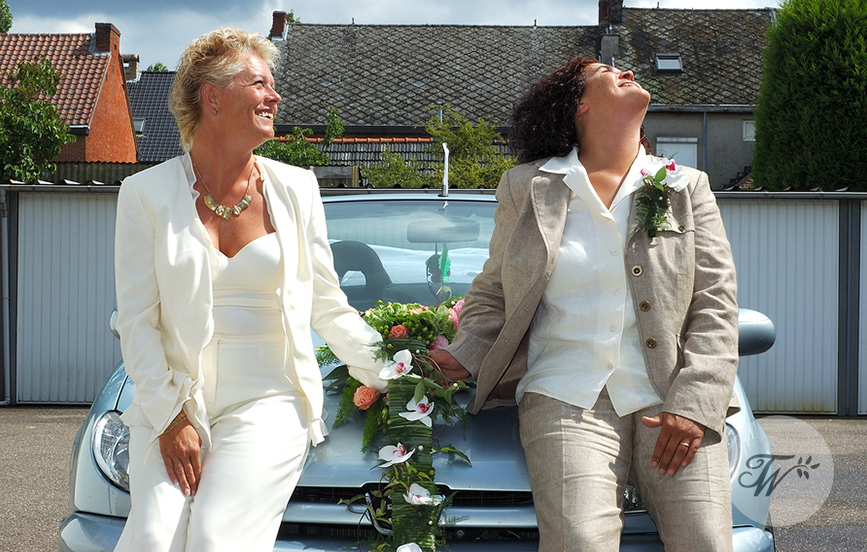 The wedding ceremony itself is not much different from the one that takes place with mixed-sex couples. The officiant greets the guests and the vows are exchanged, which brides or grooms can write themselves or read traditional wedding vows. After this, the couple exchanges rings, after which they are officially married and they can kiss.
Even though there are some differences between same-sex and mixed-sex wedding ceremonies, there are still lots of similarities. And the most important similarity is that both ceremonies serve to show and celebrate love, respect and friendship between two people.