Serbian traditional cuisine is rich, versatile and affected by various influences, above all Turkish, but also Hungarian and Austrian in the province of Vojvodina. After a rich and tasty meal, make sure to leave some space for the dessert, because the choice of sweets is as large as the choice of savory dishes. Here are some of the Serbian desserts you definitely shouldn't miss:
Baklava – a dessert made in all parts of Balkans and the favorite of many people. It is made of phyllo dough filled with chopped walnuts, sometimes with the addition of raisins, and sweetened with thick sugar syrup.
Slatko – this is a type of fruit preserve made of pieces of fruit preserved in sugar. Slatko is traditionally used to greet the guests as soon as they arrive, and it is served together with a glass of water. It can be made from all sorts of fruit, and sometimes it is even made from rose petals.
Knedle sa šljivama (plum dumplings) – this dessert is made in all parts of Serbia, and in Vojvodina it is known as gomboce. It is made by filling potato dough with plums and cooking them in boiling water, after which they are rolled in breadcrumbs and sugar.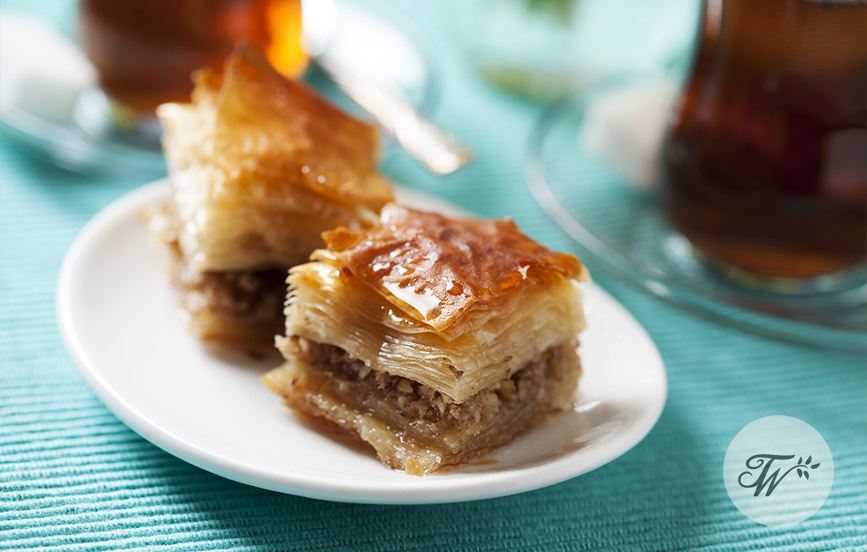 Lenja pita – this dessert could be translated as "lazy man's pie". It is made of two layers of fluffy dough, between which there is a filling most commonly made of apples, sour cherries or walnuts. It is very quick and easy to make, hence the name.
Palačinke – although this dessert is not originally from Serbia or even Balkans, it is very popular in this region. Palačinke are actually thin pancakes or crêpes, they are a favorite dessert of many, especially children. They are usually filled with chocolate spread, jam, or sugar and ground walnuts, but there are plenty of other variants and possibilities.
These five desserts represent only a small part of the choice you will have in Serbia if you have a sweet tooth. If you like sweets, you will certainly enjoy Serbian desserts.